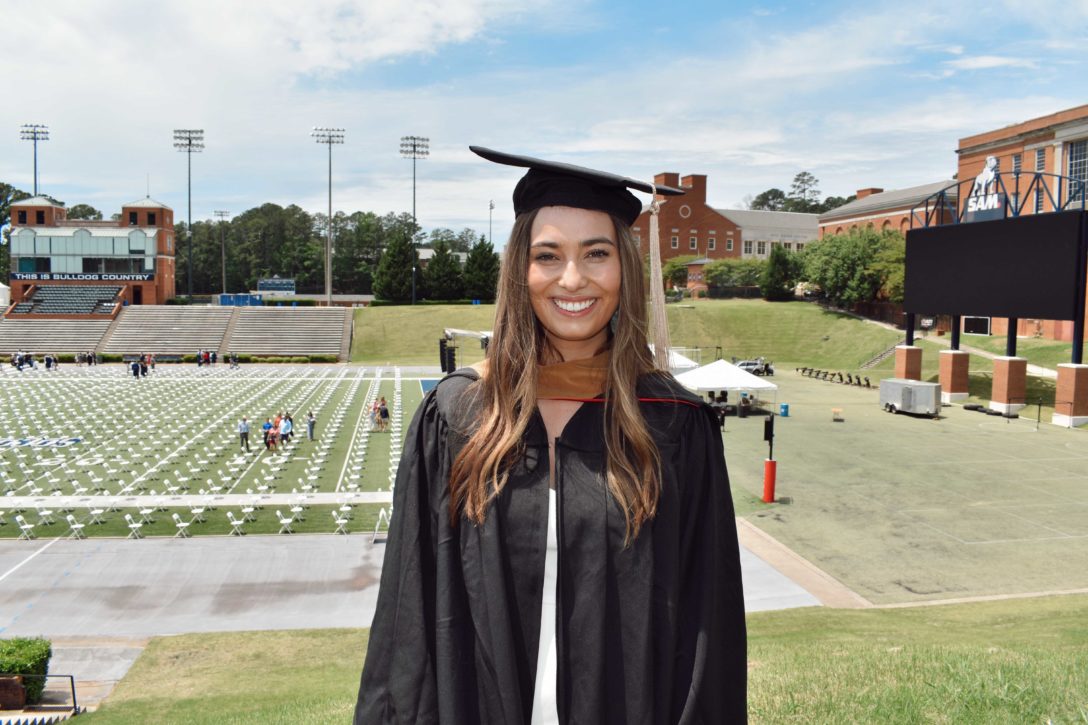 March 2020
Fifteen minutes.
That was all Account Coordinator Madeline Gammill had to pack her dorm, look around, and say goodbye to her undergraduate career.
Madeline spent spring break in Florida, and that's where she was when America realized the severity of the novel coronavirus. Samford University instructed its on-campus students to return, giving them a mere quarter of an hour to collect their effects before transitioning completely online.
As seniors preparing to take final exams, the news was anxiety-provoking for many.
"Our professors went easy on us, luckily," Madeline said. "On my last day, I only had one final to take. One final out of five classes. I remember shutting my laptop when I was finished and thinking, I guess that's it."
It was an anticlimactic ending to a milestone moment. While Samford tried its best to reschedule graduation, the university was eventually forced to switch to a virtual ceremony.
"I had to work the day they aired the ceremony," Madeline said. "It felt like it never actually happened."
Before the pandemic emerged, Madeline always had the idea of pursuing her MBA. But she planned to work in the industry for about five years before returning to school. After completing her undergraduate program in marketing with a sales minor, Madeline struggled to find work in an abysmal job market. She eventually took a retail position, feeling she was more drawn to a career in sales.
"I needed a little bit of work experience to figure out what I wanted to do," Madeline said. "I realized I hated working on commission, and I wanted a better work culture fit than the one I had at my retail position."
She talked with her parents and decided to make the most of this bizarre time in the world. That June, she enrolled in the MBA program at Samford.
Recognizing the unique constraints placed on students in 2020, Samford waived the GRE requirements for both semesters. Classes were entirely virtual until spring 2021. The unexpected change in format taught Madeline skills she has been able to apply to real-life business.
"Figuring out how to collaborate virtually is a skill that will become way more common," Madeline said. "I had a lot of practice with things like gathering people virtually for a group project and learning to present over Zoom. I remember my professor's biggest critique was that we weren't engaging enough when presenting. I learned that you have to put extra effort into emoting to come across animated over video. Those skills have prepared me for the future of business."
Madeline's courses continued in virtual format until the spring semester, where they transitioned to two virtual, and two in-person. At the same time, she learned to balance the demands of being a full-time student with those of being a full-time employee at SAM.
"My mom got the brunt of my stress," Madeline said. "I called her daily on lunch to vent. It was tough to balance. My finals week lined up with Fact Week here."
Balancing the two required Madeline to improve her organization skills and to use her free time wisely.
"I had to make sacrifices knowing that my grades probably wouldn't be exactly where I wanted them, but there was a lot on my plate," Madeline said. "I didn't have all day to study for an accounting exam like other students did."
Despite the challenges, she did it. Madeline graduated with her MBA on May 8, 2021. This time, she was able to celebrate in person with her family, friends, and peers. Looking back, Madeline sees the serendipity of the situation.
"I think if I waited five years like I planned, I don't know if I would have done it," Madeline said. "It would've been way harder to go back, especially if I had to take the GRE."
Now, Madeline has accomplished her goal and can take a moment to enjoy the fruits of her labor.
"I don't think I'll realize how bad it was until later," Madeline said. "Monday was my first day getting off at 5 p.m. and having nothing I had to do. I could just do my laundry and turn my brain off."
Congratulations, Madeline from all your SAM family for persevering and Improving Every Day.