The leaves may be changing, but that doesn't mean love isn't still in the air. This fall, two of Strong's digital team members popped the question and set a date. Their stories, while composed of different times, faces and places, share the same raw emotion that anyone getting down on one knee can't help but feel.
Joey
Always one to practice what he preaches, Joey Tichenor harnessed the power of digital technology to find eternal love. Tichenor met his fiancée, Anna, via a dating app last spring. The two had their first date at Cahaba Brewing in April of 2017. Ever since, Tichenor has known that Anna was the one.
With Anna being of Polish descent, Tichenor suggested that the two visit Poland as a late summer trip. While there, Tichenor would have the opportunity to meet his future fiancée's extended family and practice nodding blankly while they spoke to him in Polish.
Everything coalesced in Tichenor's mind. A foreign destination, a family gathering, a first-time adventure… it was the perfect place for a proposal. There was only one problem. Anna's cousin's wedding was taking place during the trip. Not wanting to steal her thunder, Tichenor had to wait.
The day after the wedding, Anna and Tichenor took a sojourn to a mountain resort town near the Czech border. Tichenor described it as a "Polish Gatlinburg."
His original plan was to hike the town's mountain and propose at the top, but once he fully realized its height, he knew neither would be in a condition to be photographed once they reached the summit.
Instead, Tichenor spotted an enchanting garden in the courtyard of the hotel. There was lush vegetation, a koi pond, a quaint little bridge – the perfect spot.
"Let's take a walk in the hotel garden before dinner," Tichenor suggested.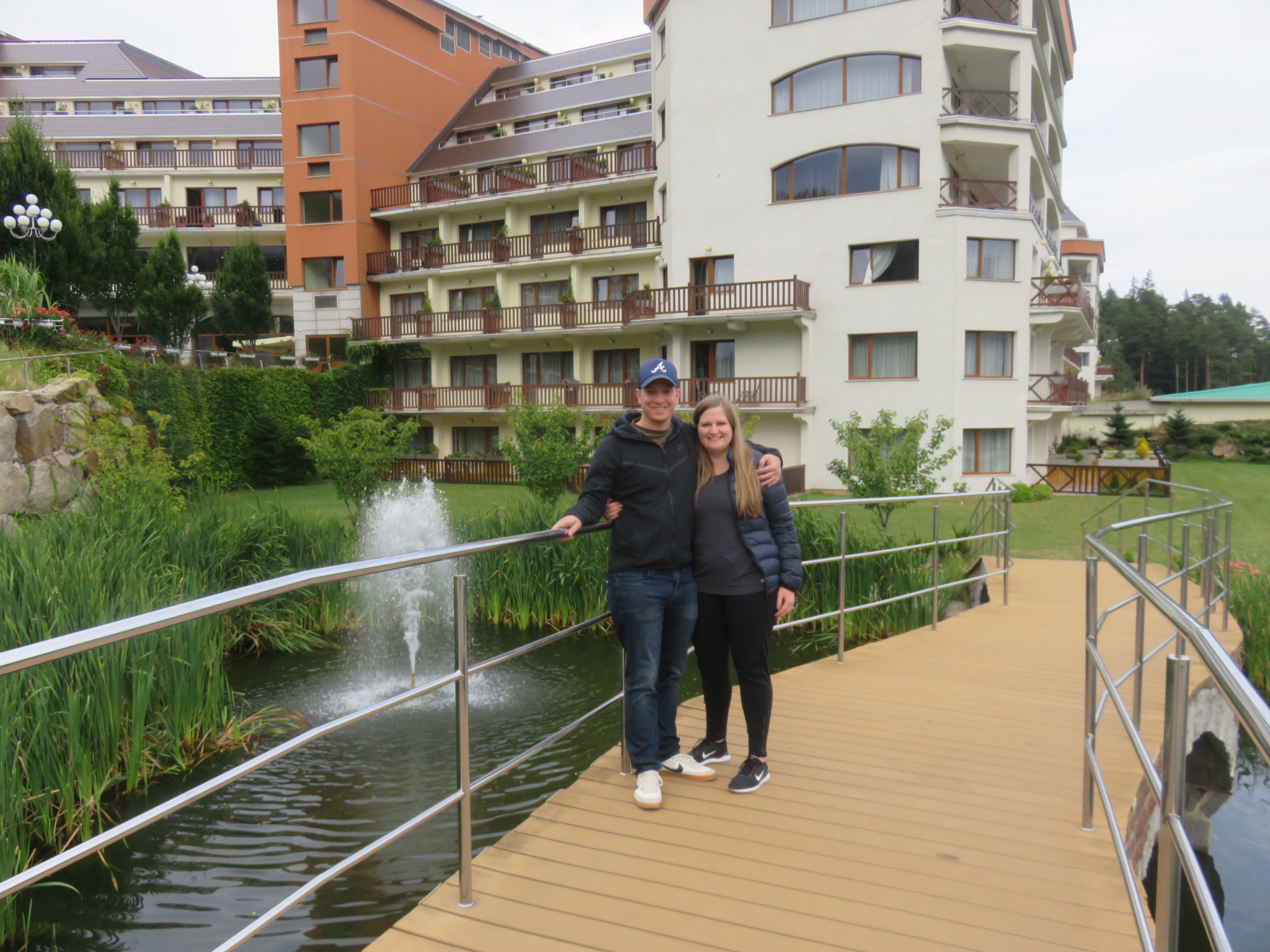 As they walked, Anna questioned why Tichenor was unusually silent. She brushed it off as pre-dinner peckishness. Little did she know, Tichenor's hand was placed over his pocket the entire walk, fearful of misplacing the ring that he had so masterfully hidden for the duration of their trip.
As they stood on the bridge and gazed out at the water's rippling surface, Anna turned to walk away. Tichenor knew it was now or never.
"Anna, wait!" he called.
She paused and swiveled. As she cast her gaze back toward the other end of the bridge, she found Tichenor kneeling before her, ring in hand.
After a heartfelt proposal and a resounding "yes" on his fiancée's part, the two eagerly informed friends and family back home before continuing on to the night's dinner.
The couple is set to wed on Saturday, June 1, 2019, in the ballroom at Roots and Revelry.
Mary-Kate
Mary-Kate Laird and fiancée Savannah's meeting was somewhat by chance.
Seated at a table at Café Dupont, Laird was surveying the room when she stopped for a double-take. One diner, in particular, looked strikingly familiar. Pulling out her phone to check, Laird recognized her as someone she had seen on a dating app. She sent a message calling out the dinnertime coincidence to the girl and carried on.
As it turned out, Laird was mistaken. The girl from the app was not the girl in Café Dupont. Rather, she was a few blocks away at Ghost Train Brewery. Nevertheless, the two connected and found they had much in common.
Fast forward almost one year later, and the two are preparing to attend their one-year anniversary celebration dinner at The View.
What better time, what better place, Laird thought, than here to ask.
In preparation, she had asked a former co-worker, Colin, to perch behind the columns outside and capture the moment on camera. Her father and Savannah's mother attended clandestinely as well.
"Let's take a minute to go to The Grill and see the skyline," Laird suggested to Savannah.
As the two made their way outside, Laird paused, searching for a pre-determined bush. The family, unbeknownst to Savannah, was lingering just out of sight on the balcony above. They watched as Laird produced a small, wooden box. In it was the ring.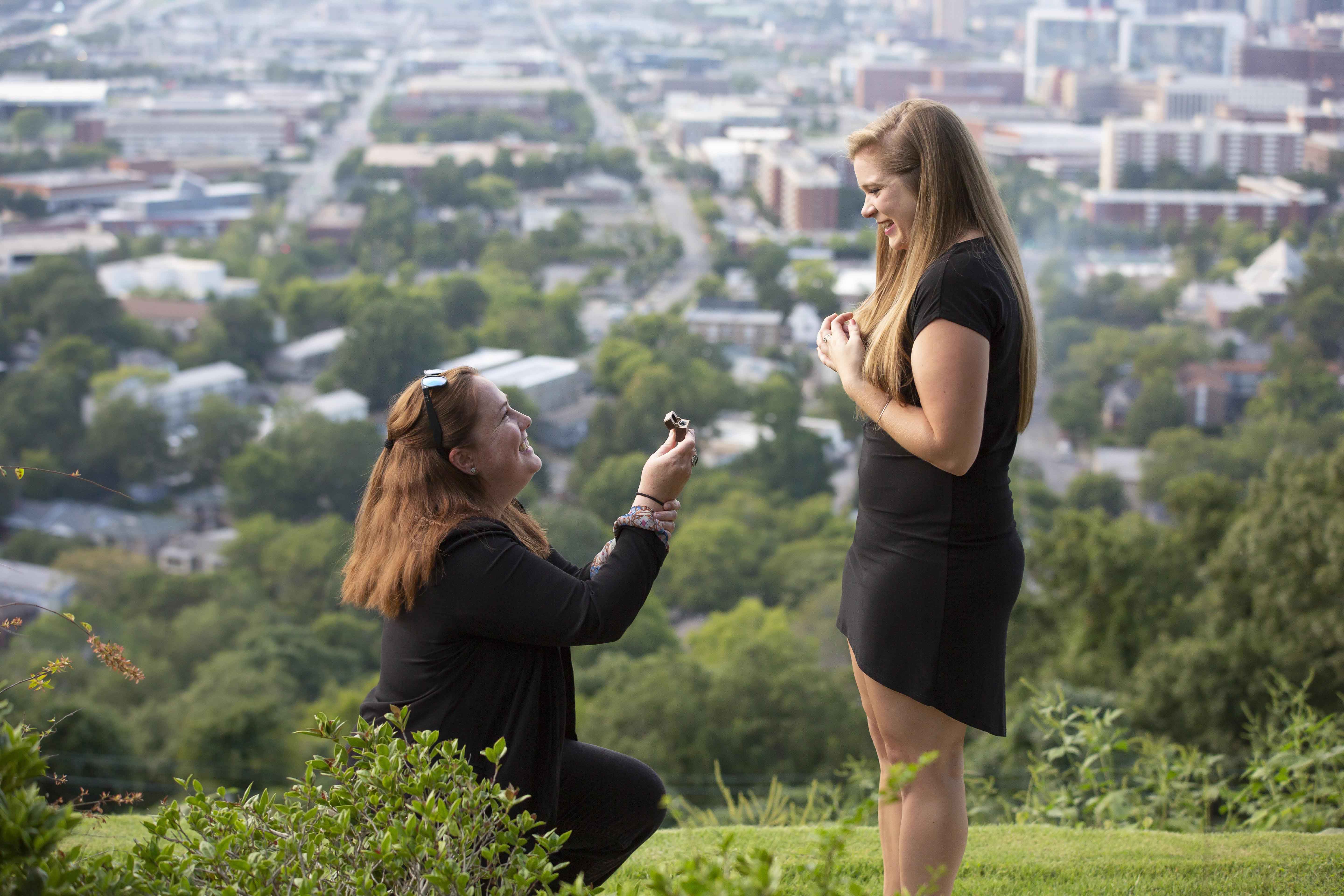 "We had talked about it before," Laird said. "She told me that I have to tell her I'm about to ask an important question. I had an entire script written but could only get out, 'Okay – I have an important question… You know I love you, right? And I want to be with you forever. So, will you marry me?'"
Savannah nodded tearfully, and Laird pointed to the balcony to reveal her mom while Colin emerged from behind the columns. It was a joyous moment with family and friends that she will never forget.
The couple is set to wed Sunday, Oct. 13, 2019, at Barnsley Gardens in Georgia.