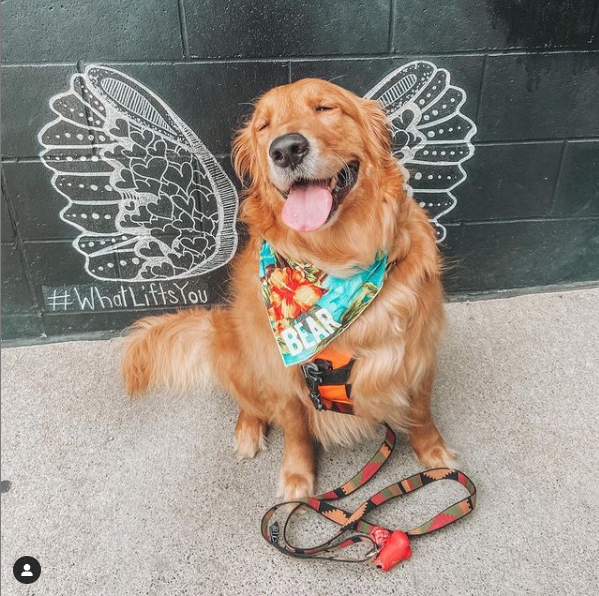 Fame is easier than ever to achieve in today's world. Sometimes, it takes but a single post on Instagram or TikTok to go viral and make a name for yourself. 
It also helps if you've got a furry friend in front of the camera.
Senior Social Media Coordinator Amanda Dunn has transformed her passion at work into what may become a profitable hobby. This past July, Amanda's golden retriever, named Bear, enjoyed his third press appearance.
Bear is the star of the Instagram account Amanda started with her husband, titled Bear The Golden. The account boasts more than 2,100 followers and 200 posts. Bear was recently included in Bham Now's "7 Adorable Pets You Need to Follow on Instagram" article. This is the second time the golden retriever has been featured in Bham Now. He also made it into a post on IN Birmingham.
The Dunns grew the account from the ground up, and Amanda says the skills she's learned at SAM have supported Bear's rise to fame.
"It's fun because it's an extension of what I've learned here," Amanda said. "I can try new things based on what we're doing at work, and I've also tried out new strategies on Bear's Instagram that I can bring into the workplace."
To develop her following, Amanda has relied on tried-and-true audience acquisition techniques. She began by finding other local accounts of dogs in Birmingham, or by viewing posts from dog-friendly locations, and following the accounts that posted.
Bear enjoyed an in-person celebrity moment when the Dunns traveled to a dog-friendly hotel in Panama City Beach, Florida. 
"Everyone loved him," Amanda said. "Groups of people came over to ask if they could play frisbee, and kids were asking others at the beach if they had met Bear yet. He was like a celebrity!"
The hotel noticed, too, asking Amanda to tag them so they could share the post. Her goal for the account is to generate business opportunities, like when Visit PCB contacted her for permission to use Bear on its Instagram account. Or, more recently, when Bear was shared by The Nashville Guide, an account with more than 180,000 followers.
Amanda's next big project for the account is creating a virtual trail of dog-friendly places in Birmingham for others to enjoy as well. Make sure to follow for the latest updates of what is without a doubt a Beary Happy Life.