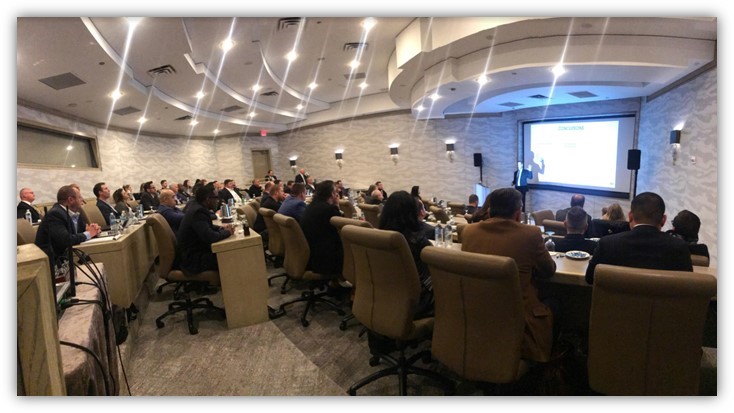 In December, it's common to see people traveling for one holiday excursion or another. This was the case for Nathan Phillips and Josh Bradish. The two traveled to New Orleans, Dallas, and Houston, but it wasn't simply to spread Christmas cheer. Rather, it was part of a much larger plan that provides invaluable training to dealer groups and puts Strong Automotive Merchandising in front of a very large and captive audience.
Strong's Top-Down Training Approach
If you've ever noticed the "Google Premier Partner" badge on the bottom of your email signature, you may have questioned the meaning behind the button. Phillips explained that the Google Premier Partner status affords Strong several advantages, such as early access to changes in advertising programs and beta testing of new products.
It's exclusive, too. According to Phillips' research, only 3 percent of agencies that work with Google achieve this status.
It was through this Premier partnership that Phillips and the Digital Department became masters of the new Google Playbook before it was released to the general public. When Bradish found this out, it lead to an idea.
"Josh has connections with a lot of Honda dealers and the Honda corporate office from his time as a dealer," Phillips said. "That's how the idea came about to offer Google Playbook training to groups of Honda dealers. The book is about 30 pages long, so we're offering an easy-to-digest version that they can implement today."
Quid Pro Quo
The idea is genius. Bradish and Phillips travel to Southeast Honda conferences, present in front of a room full of automotive dealers, and offer free training on the best online advertising strategies. Many of those in attendance manage multiple dealerships, so Strong is able to share knowledge and seize a marketing opportunity all at once.
The trip didn't come without a few bumps in the road, however. When Bradish and Philips arrived at their first presentation, they were stunned to discover that Google employees were wrapping up an official Playbook presentation right before the Strong session was set to begin. After a moment's panic over giving a redundant speech, the guys decided to gear their presentation toward tier-3 only. After all, that is Strong's specialty.
This honing-in technique allowed Bradish and Phillips to present an extremely applicable version of the Playbook. Topics like eliminating display ad waste, using YouTube pre-roll, and creating landing pages made sense to dealers, and the bite-sized version made for an easy pill to swallow.
No Plans on Stopping
Bradish and Phillips' training sessions were a hit. So much so, that the team plans to continue this sort of training throughout 2018. The goal is to expand to other brands and digital teams throughout the year.
Thanks to the hard work of everyone at Strong, the agency is able to maintain its Premier Partner status and keep using it to stay one step ahead.