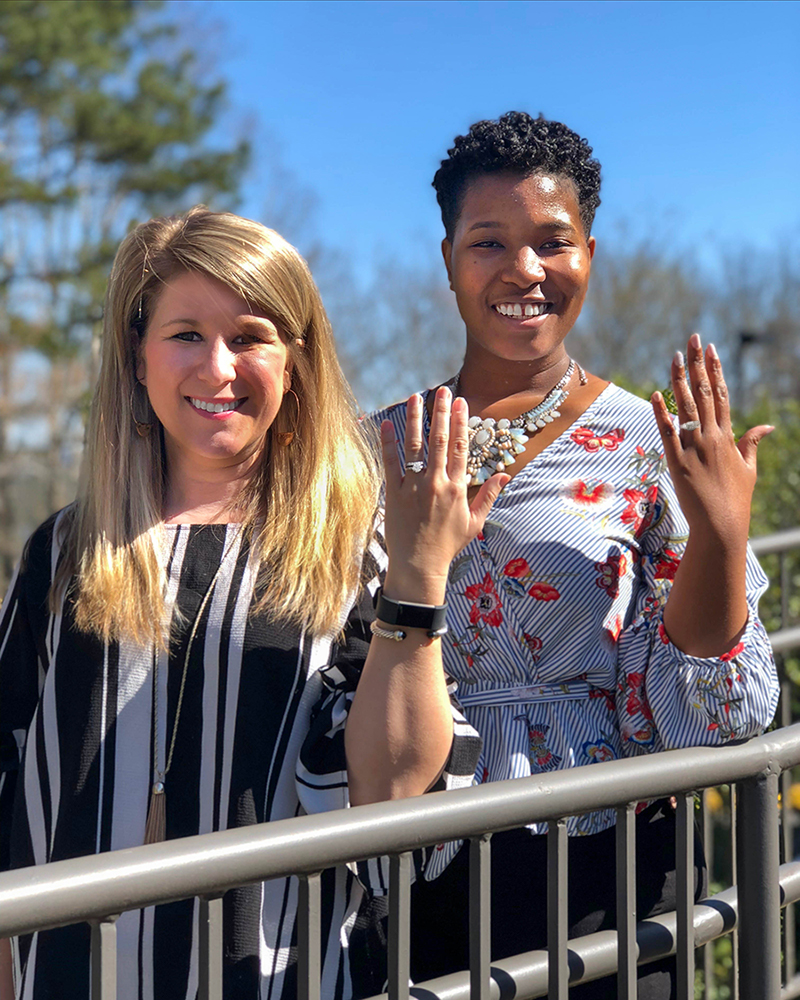 There's nothing like an engagement to bring people together in joy and jubilation. Already this year, the Strong family got to celebrate two new engagements not far from one another.
We asked Lindy McCullers and Kiara Cooper to share a piece of their engagement stories with us here.
Lindy's Story
McCuller's love story completed its circuit when she went on what was ostensibly a normal evening out at Gianmarco's. Two year's prior, she and her now-fiancé Archie had their first date at the same restaurant. As they walked out through the bordering garden, Archie paused to pick one of the blossoming flowers and gave it to McCullers as a token of affection.
Fast-forward to February 19, 2018, and they once again were enjoying dinner at Gianmarco's. On their way in, Archie paused. McCullers, confused, implored him to continue into the restaurant. But he insisted that she take a look at the flowers near where he stood. When she acquiesced, he turned to face her – on one knee and ring in hand – and proposed in the same place where their love had first blossomed.
McCullers and her fiancé are set to wed on August 11, 2018.
Kiara's Story
Cooper and her fiancé Jeffrey got engaged on February 23, 2018, the same day as Cooper's birthday. Their wedding date is set for October 7, 2018.
The following is Cooper's own account of her story with Jeffrey.
How We Met/Started Dating
Jeffrey and I met one fall Sunday in 2016. He came to visit my church with a mutual friend, and I was introduced to him after service ended. The group then went to grab lunch and, what do you know, he was there. Our mutual friend had just started a discipleship group, and I had made plans to be a part of it. During lunch, I discovered that Jeffrey was already part of the group, so we would be seeing one another every now and again – at least for the next couple of months.
Needless to say, Jeffrey and I became close friends throughout our discipleship. I really admired his wisdom, his eloquence, and his desire to help others as he strengthened his relationship with God.
We lost touch for a couple of months once the discipleship had ended, but he reached out to me on my birthday (February 23, 2017) and we reconnected. This time though, he made sure that I was aware that he wanted to turn our friendship into a relationship. After a couple months of courting, we officially started dating on April 18, 2017.
The Proposal
Jeffrey is a stickler for planning – which I absolutely love. So, naturally, he plans all of our dates. When my birthday came around, we both took off of work for the day and he was in charge of deciding how we'd celebrate. Of course, in typical Jeffrey fashion, the details of our date were a surprise. (I love surprises, but I always try to figure them out. I can't help it.)
The day started off pretty normal. I spent the morning talking to my best friends and I hung out with my mom for a while before deciding what I'd wear for my date that night. (I was casually told to dress to impress, as we would be celebrating at a pretty nice place later in the evening). I'd suggested that we both wear all black, so I sorted through my wardrobe to find the perfect outfit. Once it was time for our date, we took my car and went to see a movie.
After the movie, he drove us to my favorite place, the Botanical Gardens. We walked around for a bit. Then, we went and sat on a bench near The Rose Garden and talked. He was acting a little weird, so I thought, "Is he about to propose right now? Hmm… This would actually be a good time." (He didn't). We left and headed to our next destination.
He had made reservations at Habitat Social & Feed. #Fancy! As soon as I set eyes upon this stunning restaurant, I was instantly taken aback. We sat down and enjoyed an absolutely amazing meal. At some point before we were seated, he had informed the managers of it being my birthday, and they were (in my opinion) being unusually nice to me. So again, I was thinking, "Okay. It's definitely about to happen now. Someone's probably going to bring out dessert or something with a ring in it." (Nope – that didn't happen).
He asked me to check the time and then quickly paid for our dinner. We had somewhere else to be and he was in a hurry. As we got to the car, he realized that he had left his personal set of keys at the Botanical Garden while we were there earlier, so we needed to rush back and get them before our next reservation. We drove back, and as we were pulling in, we noticed that the lights were already off and they were closing! We jumped out of the car and walked hurriedly toward the entrance. There was a security guard there preparing to close the gates, so our fast-paced walk turned into a run as we raced inside and headed toward The Rose Garden.
We got up the steps to the garden and my jaw dropped as I noticed the trail of candles leading toward its center. As we walked down the pavement hand-in-hand, I realized that there was a guitarist seated at the end of the trail, playing soft music. By the time we made it to the center of The Rose Garden, I was freaking out. It was really happening, and he'd actually caught me off guard! Then, he started singing our song! (Always and Forever by Heatwave). I heard footsteps behind me and he turned me around to see our friends, also dressed in all black, holding sunflowers (my favorite). The guys joined in to sing backup for the song. Then, they each handed me the sunflowers that they were holding. I turned back and Jeffrey was on one knee. He proposed!
My response? "Of course!"
Love From Strong
Everyone at Strong would like to extend a heartfelt congratulations to our two newest brides-to-be. We look forward to celebrating again at your showers!