More than two decades ago, SAM celebrated its first love story. Connie and Bill Marefka met while working at the agency and are now celebrating their 24th year of marriage.
This year, we welcome our second SAM marriage of Emily Quintana and Jonathan Hubauer. Here is the story of how the young couple met and how their family is growing in the future.
Serendipity at Strong
Summer was in its final hour. The weeks of endless heatwaves would soon give way to cooler days and all that autumn promises. A few members of Team SAM decide to seize these waning estival moments and meet up after work for a social event.
Out of chance, Emily and Jonathan ended up at the same event. Their first conversations centered around the commonplace – work experiences, agency life, stories from the office. But soon, they found themselves connecting on a deeper level. The two began seeing one another, and three months later they had moved into an apartment together at the Thomas Jefferson Tower.
"I didn't think too much of it when we started telling people at work," Emily recounted. "It was pretty random; our departments rarely work together, and even to this day I've never interacted with Jonathan's role. So it came as a surprise to a lot of people."
As time wore on, the two decided to rent a house together in the Crestline neighborhood of Birmingham. Their first day in the new home, between unpacking boxes and checking lightbulbs, Emily had an intuitive feeling in the back of her mind. She decided it was time to find out the facts. Her suspicions turned out to be true: Emily and Jonathan were having a baby.
"I told Jonathan once I knew," Emily said. "Naturally, he had a small freakout moment at first, but we knew it was meant to be and we would eventually get married. It was a surprise, but it kind of fit the rest of our relationship – moving at lightspeed."
Emily is due to give birth on July 14 to Holden Patrick Hubauer. Their son's middle name is a tribute to Jonathan's twin brother's first name.
Emily expressed gratitude for having a house before the baby arrives.
"Pushing a stroller down 2nd avenue isn't something I wanted to do," Emily said in reference to the couple's TJ Tower apartment. "I'm very glad we're already moved into our house."
The nursery is nearly ready according to Emily, only lacking a few finishing touches before the all-important day arrives. The hospital now allows two guests in addition to Jonathan, so the couple is excited to have more of their family present for Holden's arrival.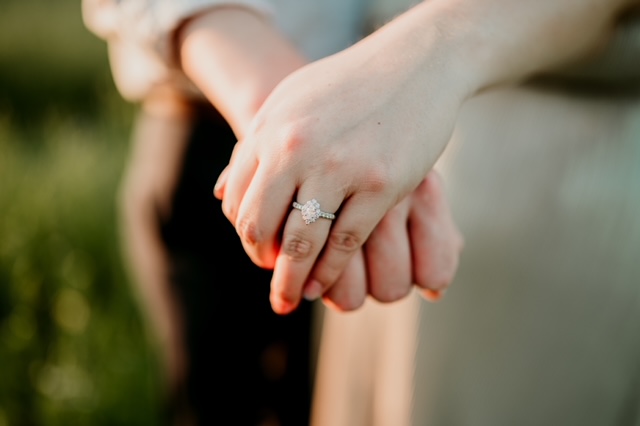 Emily and Jonathan are set to wed this weekend at Jonathan's family home. It will be a courtyard ceremony with family present. The same pastor who married Jonathan's older brother will preside over the ceremony, and afterward the group will have dinner, cake, and fellowship.
"We plan to do a larger reception for friends and family sometime next year," Emily said. "We wanted to wait for that so Holden can be a part of it, too."
Team SAM is happy to celebrate our second agency wedding, and we send many good wishes to Emily, Jonathan, and baby Holden.